What makes this system so effective
Learning has never been so much fun!
The key to success in teaching your little one to read lies in the ability to engage your child's attention - not for one day, two weeks, or even three months, but continually.
Playback Variety
With Little Math, no two lessons are ever the same! Whether you want to teach numbers or math, Little math's ability to randomly generate numbers and equations and display different icons, icon size, icon colors, etc. each time makes lesson variety potentially limitless!
For example, each time your child is taught the number "3", she will see a different icon set - the first time it may be 3 red dots, the next time it may be 3 blue stars, or even teddy bears. Icons can even be mixed, and be of different sizes! This variety of quantity display not only helps to keep your child's attention, but also enforces the true meaning of numbers like never before possible!

In fact, virtually every playback element can be adjusted and/or randomized, such as the voice pronunciations, font and colors of the numerals, etc.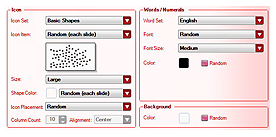 Last but not least, the placement of the icons are truly random, making sure that your child is not simply memorizing the arrangement pattern of the icons.
This degree of playback variety is simply not possible with flash cards or DVDs, which have little or no room for variation in terms of lesson presentation.
Little Math comes with different professionally recorded voices as well as dozens of icons and hundreds of preinstalled lessons.
Personalized Lessons
Another key feature of Little Math is the ease with which it is possible to personalize lessons - making learning to read that much more meaningful for your child.
Instead of simply relying on the preinstalled icon sets and voices that come with Little Math, why not use pictures of your child or his favorite characters as icons, and record family members saying the numbers?
For example, if your child is into dinosaurs, create or download dinosaur icon sets! If your child is fascinated by looking at herself, create icon sets of her own face! The possibilities are endless!

While personalization is optional, the small amount of effort involved will definitely be worth your while. Nothing will engage your child's interest in reading more than pictures and sounds he recognizes from his own life or which are particularly interesting to him at that time.
As with playback variety, customization much more difficult to achieve with other media platforms.
Various Lesson Types
Little Math allows you to teach quantity and math using flash lessons which harness your child's right-brain learning capabilities. In this mode, slides can be presented rapidly, making the concepts easily absorbed by the right hemisphere of the brain where learning is unconscious and effortless in the early years.
Should you prefer, lessons can be shown at a leisurely pace, while also intermixing quantity slides with the corresponding numerals, and even words. You may also show the same number quantity several times in succession, each time using different icons in order to better demonstrate the quantity concept of a particular number.
Quantities can also be shown in grid formation instead of randomized placement. Grid mode not only helps to effectively show number patterns (as a precursor to multiplication, for example), it is also particularly helpful for older children as the left brain becomes more dominant.

Teaching has never been so easy.
New to early learning and not sure how to teach? Perhaps you have a busy schedule with limited time to prepare lessons. We designed Little Math with your child's first and best teacher - YOU - in mind. Our system has been tried and tested by thousands of parents, and comes to you with functions as user-friendly as they are powerful.
Ready-Made Curriculum
Little Math incorporates a complete, detailed curriculum, giving you a day-to-day guide for teaching your baby! The best part is, it only takes 5-10 minutes a day to deliver your baby's mathematical education!
Our curriculum covers two complete semesters of carefully designed content that frees you from all the trouble of lesson planning, making the process as simple as pressing the "PLAY" button each time.
Comprehensive in its scope and design, our curriculum will guide your child in a systematic and progressive fashion: from the early concepts of quantity to the numeral representations of quantities, and then onward to basic and advanced arithmetic - all within 12 months.
All that is needed from you is the commitment to teach your child for 5-10 minutes once or twice a day, not including weekends.
In addition to the curriculum, Little Math also comes with preset lessons for both numbers and math that you can use and customize separately depending on your child's progress and needs.
Customization is Easy and Powerful
Want to customize the lessons to suit your child's specific requirements? Little Math's numbers and equations generator means teaching math for kids no longer involves hours of tediously creating equations beforehand. From showing just numbers, or simple arithmetic equations, to even multistep equations with mixed operations, generating completely new and random equations has never been easier - simply choose the range of numbers or values you want the lessons to cover and let Little Math do the rest!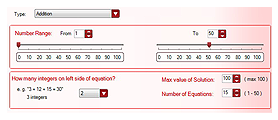 Showing specific numbers or equations in a specific order can also be easily done, as with changing any of the display options such as icon selection.
Get support from BrillKids - You'll never teach alone
Little Math is brought to you by BrillKids - home to the early learning information portal BrillBaby.com, as well as the world's most active early learning community, at BrillKids.com.
With over 50,000 members from all over the world, the BrillKids community is here to support you every step of the way as you embark on this exciting journey with your child.
Thanks to the forum as well as our online help desk and video tutorials, help is only a click away.
Should you need to contact our efficient customer support team, send us an email, and we'll be sure to respond to you within 24 hours (72 hours if on a weekend.)
It's like nothing you've ever tried before.
Unlike other systems which provide you with limited presentation styles or a finite amount of lesson content, the Little Math Learning System has the ability to grow with your child.
Your child's learning doesn't stop when you've run out of curriculum to use - you can simply choose to create or download additional lesson content already made by BrillKids or other parents from the forum!
Ever-Expanding Content
Unlike other learning systems, Little Math is made to be constantly evolving. Not only will your software be continually upgraded for free, but your library of content can be expanded greatly with just a few mouse clicks!
So if your child has just taken a strong interest in butterflies, download butterfly icon sets from the Little Math Library!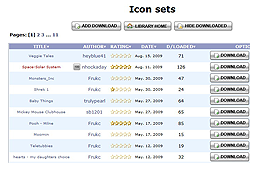 Meanwhile, if you would like to teach numbers and math in a different language, the Little Math Library also contains foreign language sound sets created by native speakers in over a dozen languages!
The BrillKids online library houses hundreds of number and math lessons in, over a dozen languages, and over a thousand icons for representing quantities. Most are available for free, and all can be easily imported into your Little Math.